Drago Bar Stool In Dark Brown Faux Leather With Chrome Base
Bar Furniture Offers
Just £129.95!
An outstanding Drago Bar Stool with classic style and stunning faux leather Seating styled with a chrome steel finish structure are perfect for any room setting. This excellent piece of bar furniture with smooth gas lift motion is just perfect for height adjustment. Ideal for living rooms, kitchens, bars . This eye catching bar stool with footrest is visually appealing, durably lasting, robust, easier to clean and with the 360 degree swivel functionality! Features: • Bar stool in unique and contemporary high back ribbed design with a show home ready look • Drago bar stool with chromed steel finish structure • Easily adjustable according to your kitchen or bar table • Perfect accompaniment with any contemporary bar table • Smooth gas lift action with square base for extra stability • Swivel function • Available in brown and red and White and black Dimensions: W 39 cm x D 45cm x H 92-113CM
Our price for Drago Bar Stool In Dark Brown Faux Leather With Chrome Base is just £129.95.
Brand: Furniture In Fashion, Category: Stools
Looking for awesome deals at bolleartstudios.com? Bar Furniture Offers website is offering the keenest prices on the web and rapid delivery for Drago Bar Stool In Dark Brown Faux Leather With Chrome Base and similar items like Jens Bar Stool In Faux Leather With Chrome Base and Kitts Bar Stool In Faux Leather With Chrome Base. Lowest UK's prices and prompt delivery promise on a wide range of bar furniture offers here.
Similar Items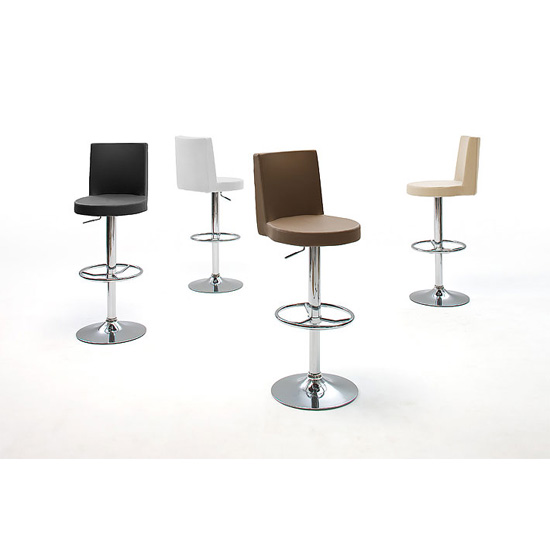 £69.95
Jens Coloured PU Leather Bar Stool With Gas Lift Cover: PU Leather Available Colours: White, Black, Brown and Cream.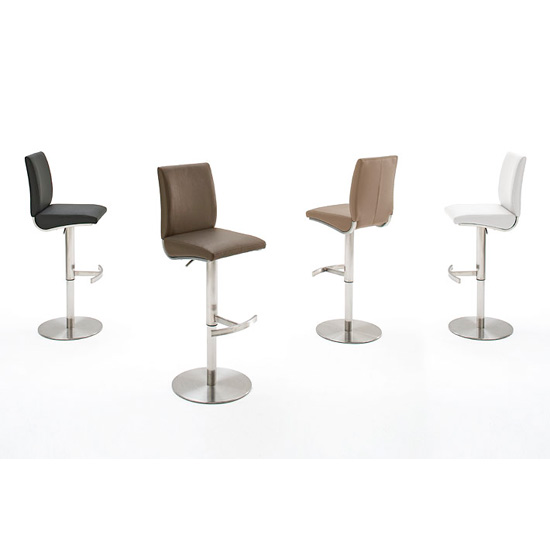 £139.95
Kitts Bar stool In Pu Leather Medium back Rest Seat With Gas Lift and swivel function This excellent bar stool is very attractrive and stylish and offers more than functionality it also a design piece for your home and kitchen . Features: • Crafted from the highest grade materials • Gas lift functionality • Exceptional build quality • 360 ° swivel height adjustable seat / gas lift • Adjustable Height • Stylish seat in a design for added comfort • Available in four colours black ,white and brown and cappucino (please choose from drop down menu above • This is a solid piece of furniture and assembly is required • Heavy duty packaging • Part of our bar furniture collection Dimensions: The overall dimensions of the BAR STOOL H 87 cm to 115 cm x W 42cm cm D 51cm.
£359.95
Features: • The Georgian Round Back Bar Chair is a well constructed stool with a spider design on the back seat and a ...
Check out other popular pages of our site Bar Furniture Offers New Arrivals, Top Discount Bar Furniture Offers and Bar Furniture Offers Hot Deals.